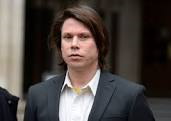 A British man alleged to have stolen large amounts of data from US agencies won his extradition case, but may still face trial in the UK.
Lauri Love, 32, was arrested in October 2013 on suspicion of stealing data from multiple US agencies in a series of attacks in 2012 and 2013. US authorities wanted Love to face trial in the country, which would mean extraditing him from the UK.
But judges in the UK ruled that if extradited, there was a high risk that Love, who has Asperger's Syndrome, may try to kill himself. Instead, they said, Love should be prosecuted in the UK with the help of US authorities.
The US Department of Justice did not immediately respond to request for comment.
Speaking outside of court after the verdict, Love said that he hoped the ruling would set a precedent. "We're hopeful that other people may be able to rely on this verdict to ensure that they're treated more humanely by the justice systems," he said.
"What is particularly important about this case is that the British justice system has taken the stance that we should deal with the matter ourselves, rather than accept the US government's demands," said Love's lawyer Kaim Todner.
"It has also been recognised that mental health provisions in US prisons are not adequate to satisfy us that Lauri would not have come to serious harm if he were extradited."